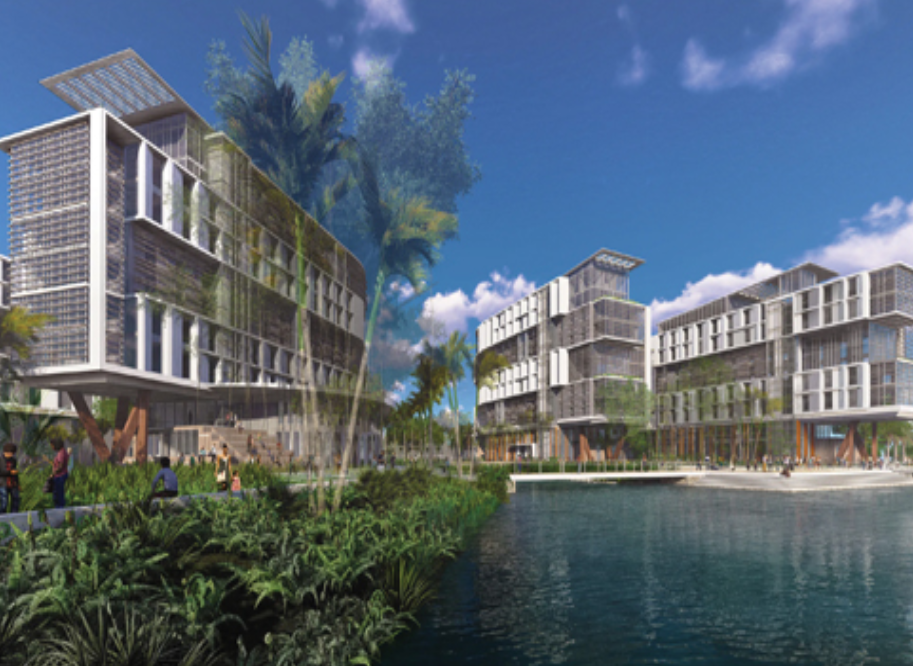 University of Miami plans major developments
Several new developments on the University of Miami's Coral Gables campus are to open this year and in the upcoming years, all aimed at transforming education, research, and innovation as the university is approaching its centennial anniversary.
The Centennial Village at UM, which is to be the campus housing complex hallmark of the Coral Gables campus, began its second phase of construction, replacing the Hecht Residential College, which was demolished last summer. Work to build this village began in January 2019, but was paused due to the Covid-19 pandemic.
The residential college complex will be composed of five buildings for first-year students with capacity for 2,025 of them – 875 in the first and second colleges, and 1,150 in the third through fifth colleges. The buildings range from eight to 10 floors and will include common spaces such as conference and seminar rooms, faculty and staff apartments, multi-purpose rooms, workspaces, and music practice rooms.
Its two residential colleges are slated to open in the fall of 2024 and will include a new 600-seat dining hall, said Jessica Brumley, vice president of facilities, operations, and planning. The village's final three residential colleges are expected to open in fall of 2026, "in further celebration of the university's centennial anniversary."
The complex, she added, is being built with innovative systems and sustainable building materials, aiming to achieve LEED Gold Certification. The total cost of the project is estimated to be $335 million.
Additionally, the Knight Center for Music Innovation, built by Sharpe Project Development and designed by H3 and Arquitectonica, will be a two-story, 26,000-square-foot theater that will accommodate 130 people overlooking Lake Osceola. The building is also to have a green room, a recording studio, and a 2,500-square-foot ensemble hall.
The facility is also to include a 200-seat recital hall and "a large black box innovation space, equipped with the most advanced recording, lighting, and broadcast technology," according to university communications, "to elevate Frost's performance, rehearsal, and teaching spaces."
The project, originally scheduled to open in the spring, is now to open in the fall.
The 94,000-square-foot Phillip and Patricia Frost Institute for Chemistry and Molecular Science has three stories ready for occupancy and will complete its fourth and fifth floors in August 2024, said Ms. Brumley.
The development of this six-story project at Memorial Drive between the McArthur Engineering Building and the Ashe Administration Building was realized by a $100 million donation from the Frost family.
"The laboratories have an open design to encourage communication and collaboration between researchers, who will share space adjacent to each other," Ms. Brumley said. "On each floor, there are communal conference rooms and huddle rooms where students and researchers can write on white boards and discuss experiments."
The facility was modeled after the National Institutes of Health. It will focus on the intersection of science, technology, engineering, and mathematics, according to the university's Strategic Roadmap to Our New Century initiative.
In addition, the new home for Theater Arts at the university is to begin construction this month, Ms. Brumley said.
The project will be a two-story building featuring a theater, concessions, wardrobe and dressing rooms, acting and dance classrooms, voice studios, a student lounge, and other supporting spaces, according to a press release by ANF Group, the construction, management and developing firm awarded for this project.
The new Theater Arts Building is also to include a 1,000-square-foot IT hub and data room.
Other development projects for the physical plant of UM include a 172,000-square-foot Football Operations Center, which Miami Athletics announced in January.
This operations center would be the "on-campus forever home for Hurricanes football," according to a press release. The seven-story building will be designed by Arquitectonica and engineering company HOK, and it will include a canal bridge connecting to the existing Carol Soffer Indoor Practice Facility, with a 555-space parking garage and a ground-level dining center for UM student athletes. In all, it will be 215,000 square feet.
"The state-of-the-art complex will provide the best necessities and amenities in the areas of sports medicine, strength and conditioning, nutrition, sports psychology, and personal branding services," said Ms. Brumley in a statement. "It will serve as a memorable destination space for recruits and their families, and a home for alumni to visit and reconnect."
Source: www.miamitodaynews.com