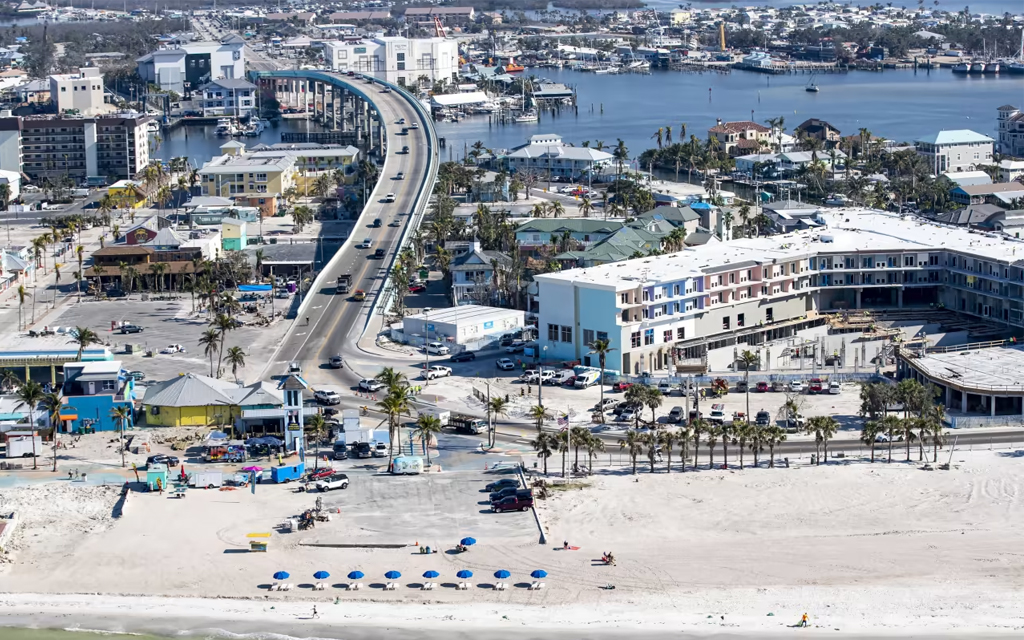 Hurricane Ian Rocked Southwest Florida. Nine Months Later, Its Real Estate Market Is Booming Again.
Last September, Hurricane Ian caused widespread damage and destruction to Southwest Florida, with the Cape Coral-Fort Myers metropolitan area taking a direct hit. In the aftermath of the Category 5 hurricane's 155-mile-per-hour winds, many residents were forced to leave their homes and seek shelter elsewhere, while many businesses permanently closed their doors, leaving empty storefronts across the landscape.
Ian rocked a corner of the state that had been trumpeted as an example of Florida's housing boom, attracting scores of newcomers while turning swamp land into housing developments.
Famous for its expansive sandy beaches and relaxed pace of life, the metro area experienced an unprecedented amount of upheaval; the storm destroyed more than 5,000 homes and damaged nearly 30,000 more, with many residents not having the means to rebuild.
As a sign of how different things were prior to the storm, Cape Coral earned top billing in May of 2022 as the hottest housing market in the U.S., posting a year-over-year gain of 36.9% in median prices, according to federal data. Now, more than nine months after the hurricane, listings of homes for sale in the Cape Coral-Fort Myers metropolitan area have recovered, and sales have begun to bounce back, according to Friday's report from Redfin.
"Intense storms are becoming more frequent in Florida, but home buyers are still moving to the Sunshine State in search of warm weather and relatively affordable home prices," said Redfin senior economist Sheharyar Bokhari.
In the two months after Ian, there were 900 fewer new listings in the metro area than there would have been had the storm not hit, according to Redfin projections. However, in the six months after that, there were 1,314 more new listings than projected, offsetting the shortfall.
The report noted that new listings are likely outperforming expectations due to a backlog created by the storm, as many homeowners who paused their selling plans or delisted their properties in the aftermath are now putting their homes on the market. Additionally, there are other homeowners who didn't intend to sell before the storm but are now relocating because their home was damaged or they want to live in an area safer from the perils of climate change.
While the local real estate market took a major hit in the months after Ian, it has been bouncing back, with many claiming the period after the storm has been the best time to invest in real estate there. Proponents argue that investing in real estate serves as a win-win: Investors get a good deal while providing an influx of cash and tax money to the local economy that is trying to rebuild.
Since the hurricane, myriad developers have been drawn to a completely blank canvas in hard-hit coastal areas, with an influx of interested parties that would not have been in the area pre-storm. Some point to simple market dynamics, considering that scores of homeowners did not have flood insurance and can't afford to rebuild, presenting an opportunity that investors have been seizing.
Research from the Federal Reserve Bank of Dallas and various studies in recent years have shown that real estate in hurricane-affected regions has historically appreciated above the national average following a storm.
While some who moved to Florida during the pandemic are leaving, new transplants continue to move in, which is incentivizing developers in Cape Coral to keep building, according to local Redfin Premier real estate agent Isabel Arias-Squires.
Florida has doled out 80,000 residential building permits so far this year—more than any other state but Texas. Arias-Squires noted that new-construction homes in Florida have the advantage of being built under the most recent building codes, providing better resistance against natural disasters and climate change.
The fact that home sales in Cape Coral have started to recover indicates that many home buyers continue to prioritize waterfront views, relatively affordable home prices and lower taxes above climate concerns, according to Redin's analysis.
Cape Coral is the seventh-most popular migration destination for home buyers, according to Redfin's latest ranking. Four other Florida metros—Miami, Tampa, Orlando and North Port—are also in the top 10 as the Sunshine State attracts house hunters from New York, Chicago and other major metros.
The report concludes by claiming that the hurricane had no major impact on home prices.
"The storm's effect on prices was likely muted because at first, new listings fell, which pressured prices to rise due to a shortage of homes for sale," said Bokhari. "But new listings then more than recovered, which pressured prices to fall because there was more supply than usual. In the end, the two effects canceled each other out."
Source: https://www.mansionglobal.com/